How To Keep Your Windows In Great Shape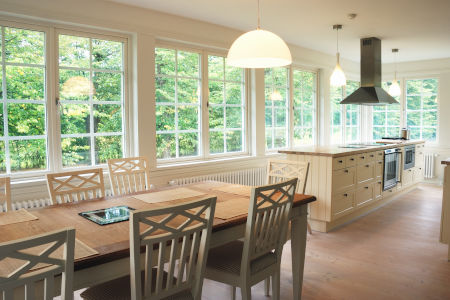 Your windows are some of the most integral components of your home's exterior. Maintaining their look and quality helps your home look bright and inviting and improves the environment indoors. But could you be doing more for your windows? Here are some simple things you can do to take better care of your windows year-round.
Get Them Inspected At Least Once A Year
Your windows should be inspected once a year. Ideally, this should happen sometime in late summer or early fall so that you can check for potential air leaks before winter comes. Gaps and leaks around windows in the chilly winter can lead to a drafty home and rising electricity bills, so it's important to get any sealed up and add weather stripping as needed.
It's also a good idea to inspect your windows if your home has been hit with heavy storms recently, especially ones with hail or flying debris. If there are any cracks or compromised areas, it's important to get them replaced or repaired before they lead to bigger problems.
Clean Them Frequently And Look For Imperfections
A good rule of thumb is to have your windows cleaned about once every month or so. Not only does this improve the look and quality of the glass, but it removes abrasive elements like pollen or sand off the glass' surface. While you're cleaning, check for cracks, gaps, grime in the window frame- anything that could present a problem down the road. Especially if you're having your window cleaned by a professional, a window cleaning is perfect timing for a mini-inspection!
Clean And Lubricate The Window Tracks
Dirt, grime, mold, bugs- lots of little debris and detritus build up in the tracks of your windows over time. This causes your windows to move slowly and stiffly when opening or closing. If there is mold or pollen built up in your tracks, they could also be allowing easy access to allergens entering your home.
To combat this problem, vacuum the crud out of your tracks, clean with a mild cleaning detergent and a little brush, and lubricate the tracks. Be careful about which lubricants you choose- not all are necessarily good fits for your windows. Silicon-based lubricants can potentially harm plastic frames, and oil-based ones can attract more dirt and grime. When in doubt, ask a home improvement or window cleaning professional what's right for you.
Spruce Up That Frame With A Fresh Coat Of Paint
Not only is giving your window frame a fresh coat of paint satisfying, but it also boosts its ability to withstand the elements. Use paints or sealants designed for outdoor use. This helps your frame keep out sand and moisture, ensuring that it stays healthy throughout all kinds of weather!
Healthy windows lead to a happy home. Just like house washing protects and brightens your home's sidings, proper window cleaning and inspection keeps your windows looking good and functioning properly! Let the pros at TWC Window Cleaning provide our expert care for your windows! Giving them that little extra bit of TLC ensures that they stay in great condition and continue to provide your home with fresh air and natural light throughout the year! Give Us a Call Today for Expert Window Cleaning & Pressure Washing in Excelsior & the Greater Minneapolis Area!